2021-2022 Spring semester course withdrawal applications

07.03.2022
Dear Students,
Withdrawal applications for the 2021-2022 academic year spring semester will be received through ATACS and the application system has been opened.
Course withdrawal applications will end on April 15, 2022 at 23:59.
Explanation: Of the students who are eligible to graduate at the end of the 2021-2022 Academic year spring semester, the course withdrawn from those who applied for withdrawal (W grade obtained) It should take the first period of the next opening.
ATACS Menu: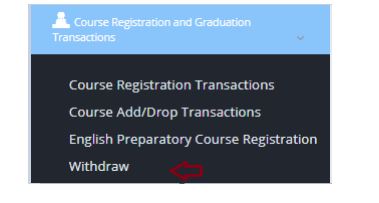 ---
---