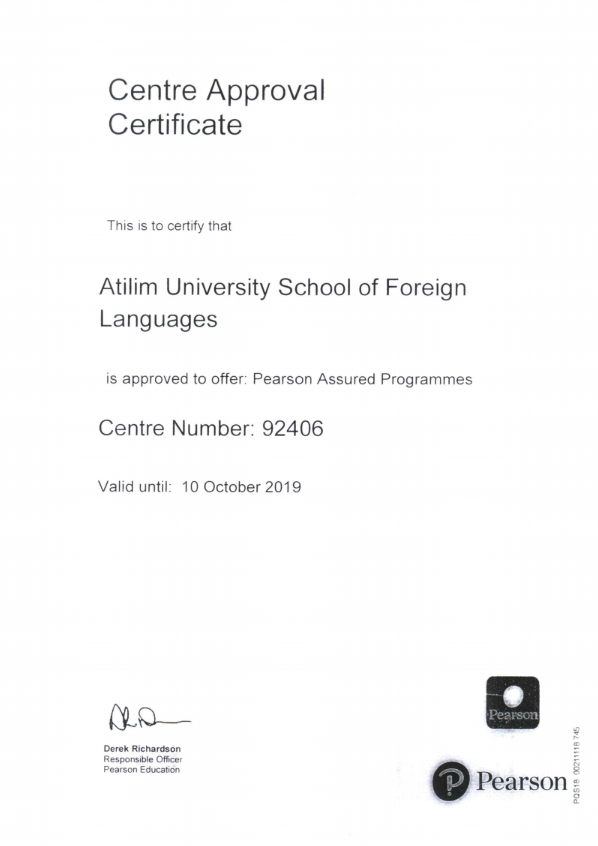 Atılım University School of Foreign Languages, with its two departments of Basic English (DBE) and Modern Languages (DML) has been awarded an accreditation certificate by Pearson Assured Organization being found an eligible school due to its global quality system as of October 10th 2018.
Based on this accreditation, the two departments of the SFL, each and separately, has been assessed and approved to be at an exceptional level of quality in 3 main categories in terms of the procedures of management of organisation, teaching and learning systems, and assessment systems.
Pearson Assured has been one of the fundamental and respected quality assurance organisations in the UK since founded in 1836 when the University of London was given the right for assessment auditing and evaluation. As one of the best known education assessment institutions in the UK, Pearson has been working in this field for more than 100 years in more than 100 countries for its distinguished auditing, benchmarking and assessing quality of institutions. Pearson Assured has been examining, verifying and directing the quality of procedures of institutions according to world quality standards, and it provides trainings if and when necessary. By the end of inspection by Pearson Assured, the institutions who are found eligible throughout the assessment process, will be granted a quality certificate, a flag and a sign.
As for the SFL, the process of Pearson Assured quality certificate preparation has been a mutual endeavour of DBE and DML under the umbrella of the SFL, through which all systems and procedures of the two departments have been examined, checked and grouped according to the quality criteria supported by evidence, filed and prepared for inspection. The whole process has taken about two years. This process has luckily ended with a certification by the auditing institution.
Pearson Assured has grouped the quality criteria in 3 categories:
Management and Organisation Procedures
Teaching and Learning Systems and Procedures
Assessment Systems and Procedures
The achieved quality certificate is subject to renewal each year for the SFL.
Department
Validity
Modern Languages
10.10.2018 - 10.10.2019
Basic English
10.10.2018 - 10.10.2019
---
---