Taking into account your suggestions in the last six semesters, we have amended our criteria to benefit our students, to take effect from Spring 2019-2020.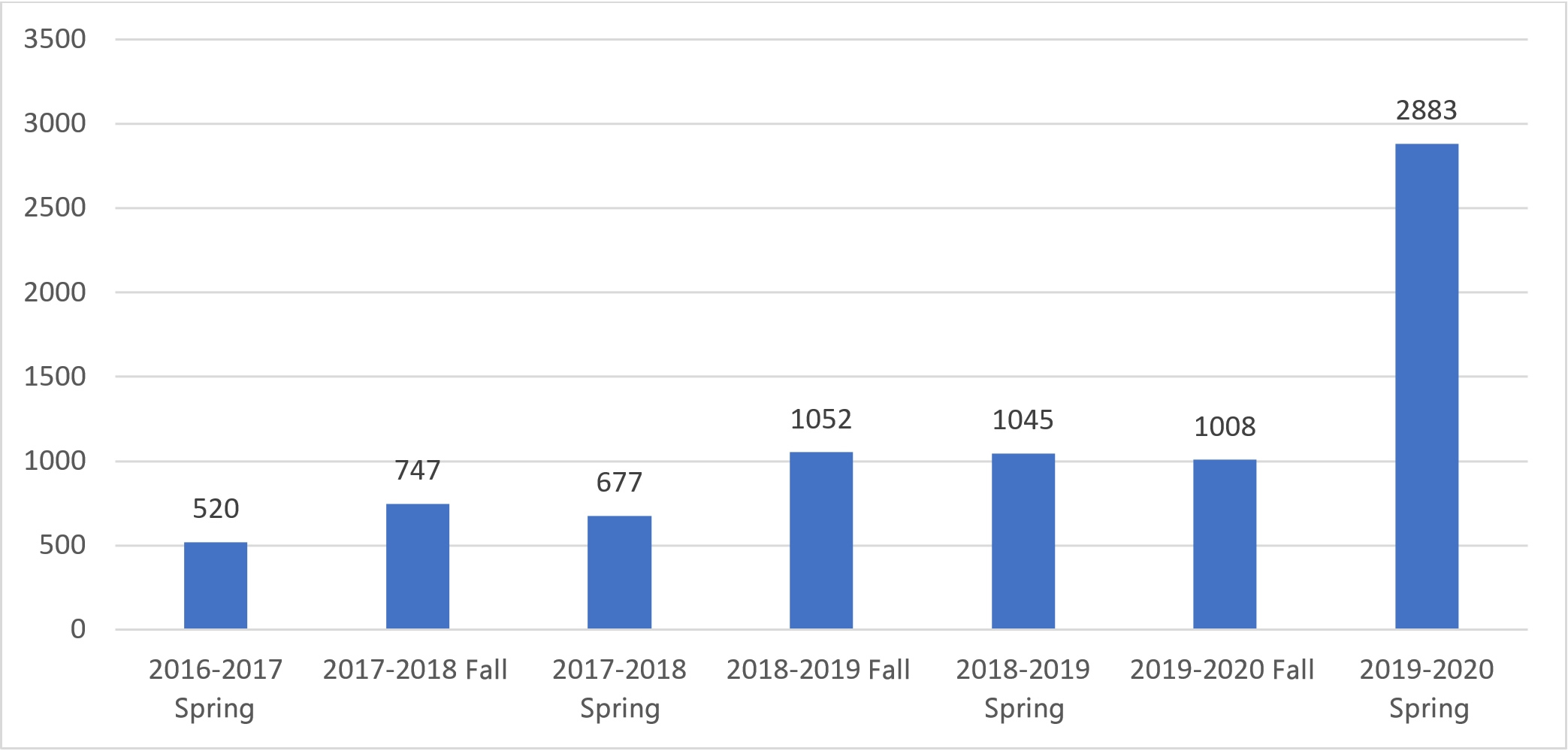 Below is the distribution of our High Honor/ Honor students of Spring 2019-2020 with respect to their Schools and Departments. You may find the name list using the menu on the left.
Due to the current pandemic, no ceremonies are to be held. No documents are to be printed or distributed.
We congratulate our students and wish them continued success.

| | | | |
| --- | --- | --- | --- |
| | HONOR | HIGH HONOR | Total |
| School of Arts & Sciences | 129 | 120 | 249 |
| English Language and Literature | 19 | 16 | 35 |
| English Translation and Interpretation | 40 | 43 | 83 |
| Mathematics | 11 | 8 | 19 |
| Psychology | 59 | 53 | 112 |
| School of Fine Arts, Design and Architecture | 114 | 76 | 190 |
| Industrial Design | 13 | 10 | 23 |
| Graphic Design | 16 | 24 | 40 |
| Interior Architecture and Environmental Design | 14 | 5 | 19 |
| Architecture | 55 | 29 | 84 |
| Textile and Fashion Design | 16 | 8 | 24 |
| School of Law | 368 | 242 | 610 |
| Law | 368 | 242 | 610 |
| School of Business | 245 | 216 | 461 |
| Public Relations and Advertising | 21 | 22 | 43 |
| Economics (English) | 19 | 11 | 30 |
| Economics | 21 | 4 | 25 |
| Business (English) | 23 | 30 | 53 |
| Business | 48 | 14 | 62 |
| Public Finance | 27 | 24 | 51 |
| Political Science and Public Administration | 33 | 37 | 70 |
| Tourism Management | 11 | 11 | 22 |
| International Relations | 15 | 42 | 57 |
| International Trade and Logistics | 27 | 21 | 48 |
| Atılım Vocational School | 10 | 10 | 20 |
| Justice | 10 | 10 | 20 |
| School of Engineering | 512 | 425 | 937 |
| Computer Engineering | 68 | 42 | 110 |
| Information Systems Engineering | 34 | 37 | 71 |
| Electrical-Electronics Engineering | 62 | 80 | 142 |
| Industrial Engineering | 45 | 30 | 75 |
| Energy Systems Engineering | 22 | 20 | 42 |
| Manufacturing Engineering | 24 | 1 | 25 |
| Civil Engineering | 72 | 60 | 132 |
| Chemical Engineering | 13 | 3 | 16 |
| Mechanical Engineering | 42 | 47 | 89 |
| Mechatronics Engineering | 39 | 36 | 75 |
| Metallurgical and Materials Engineering | 19 | 25 | 44 |
| Automotive Engineering | 20 | 8 | 28 |
| Software Engineering | 52 | 36 | 88 |
| School of Health Sciences | 40 | 36 | 76 |
| Nutrition and Dietetics | 23 | 16 | 39 |
| Physiotherapy and Rehabilitation | 12 | 14 | 26 |
| Nursing | 5 | 6 | 11 |
| School of Civil Aviation | 85 | 38 | 123 |
| Aviation Management | 19 | 8 | 27 |
| Pilot Training | 9 | 2 | 11 |
| Avionics | 32 | 16 | 48 |
| Airframe and Powerplant Maintenance | 25 | 12 | 37 |
| Medical School | 13 | 3 | 16 |
| Medical School | 13 | 3 | 16 |
| School of Foreign Languages | 118 | 83 | 201 |
| Basic English | 118 | 83 | 201 |
| Total | 1634 | 1249 | 2883 |
---
---